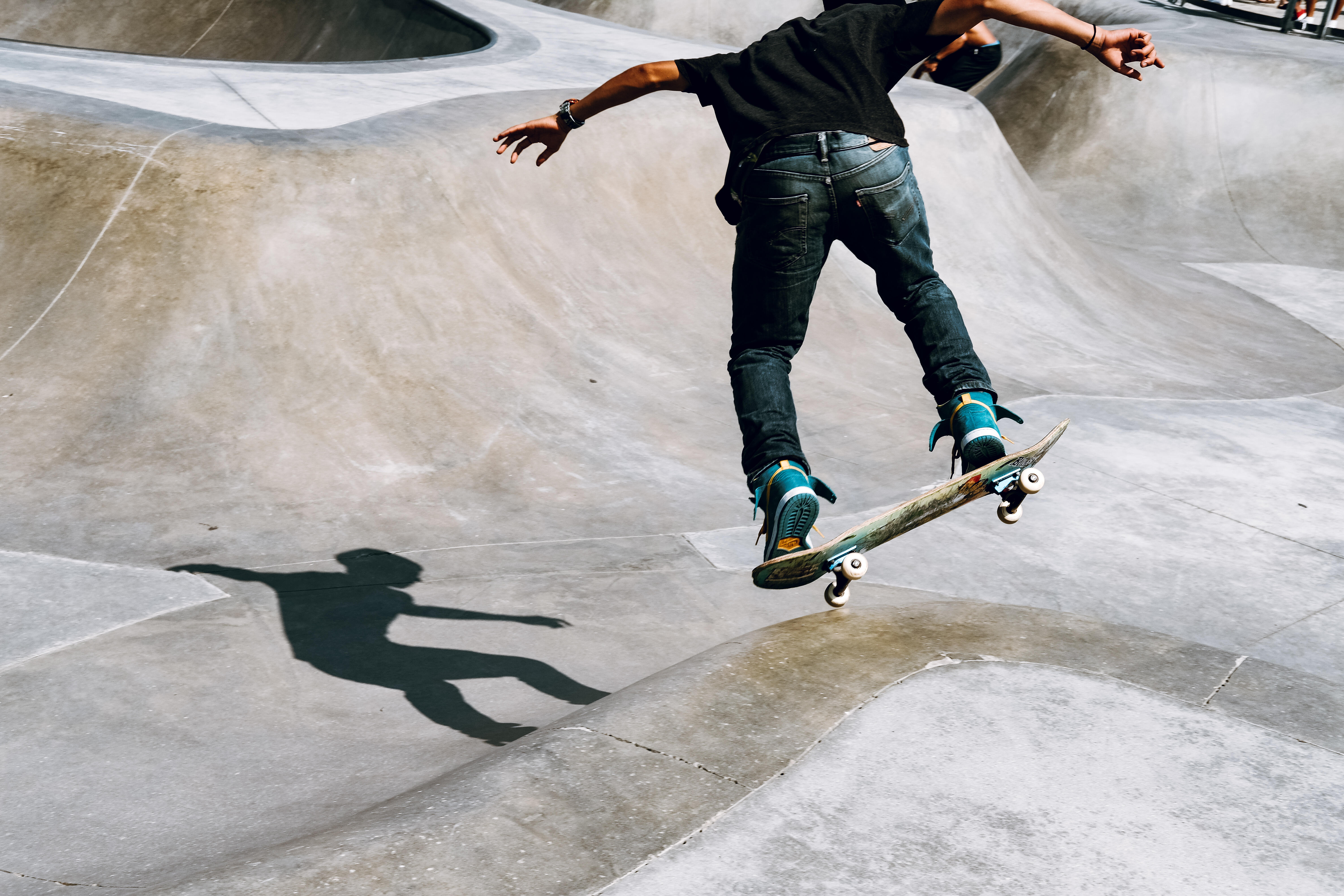 Photo: Getty Images
Who Are the Celebrities Who Skateboard
As we all know, some celebrities take the liberty of learning new skills for their acting roles to get in character. Others do this as a pure hobby or pastime.
You might be shocked to spot the following names of celebrities that skateboard, but what can we say? There're always things the lens of a camera doesn't cover.
1. Jack Black
We all know the multi-talented Jack Black from his comedic roles and movies such as High Fidelity, Gulliver's Travels, School of Rock, and a lot more, but many do not know about his skateboarding.
In a cameo appearance in the video "Pretty Sweet," Jack Black has shown ease in his skating. Although he did not execute any tricks, he rode smoothly and seemed to have a perfect time riding a board.
Quite recently, we could see Jack Black skateboarding in his backyard with Tony and Riley Hawk on his social media updates.
2. Lil' Wayne
American rapper Lil Wayne made our list! He might also be the most deserving celebrity on the list. Lil Wayne discovered skateboarding in 2010 as a hobby and incorporated it into his live performances.
Did you know that he's also a playable character in Tony Hawk's Pro Skater 5? You can see Lil' Wayne in the game, not just through his concerts.
3. Justin Bieber
There's a great chance you guessed this one right. One of the known celebrity skateboarders is Justin Bieber. The artist skateboarding in his neighborhood has been a usual sight for paparazzi. It's a regular thing as he's also been spotted skating with Nyjah Huston and David Loy
4. James Hetfield
The founder of all-time favorite heavy metal band Metallica, James Hetfield, is one avid skateboarder. Some only use the skateboard as a prop, but to James Hetfield, it was a part of him.
In 1986, Metallica actually canceled an Indiana show after James broke his arm while skateboarding.
His love for skateboarding is so well-known that Tony Hawk, Steve Caballero, and Thrasher Magazine have sat down with him in interviews.
5. Pharell Williams
A producer for renowned stars like Britney Spears, Madonna, Ariana Grande, and Jay-Z, the iconic rapper Pharell Williams has been a skateboarder even before he rose to fame.
According to Pharell himself, skateboarding was the first sport he enjoyed, and he even had a halfpipe in his home.
6. Jason Lee
You'll surely remember James Lee whenever you hear the song Bad Day, most likely the chipmunk's version of it. James Lee is one of the best and most popular skaters of the 1900s, even before his rise to fame.
He is also a co-founder of the company Stereo skateboards, a well-known name in skating and a prominent company from the 1900's up to the early 2000s.
7. Ben Harper
The American singer-songwriter owns a skateboarding business called Roller Horror, whose products are widely distributed. His love for the hobby is evidently seen in his performances as he keeps a skateboard close while on stage.
Ben Harper also has a warehouse for skating.
8. Matthew McConaughey
Actor, producer, Southern celebrity Matthew McConaughey undoubtedly deserves to be on this list. Skateboarding in Los Angeles is a lot of fun for the star, and you'll have no problems finding photographic evidence of it. This man's got tricks up his sleeve!
9. Kyrie Irving
Yes, you read that right! The all-time famous NBA player skateboards as well. Kyrie Irving of the Brooklyn Nets sure likes skateboarding. A few interviews with the professional basketball player showed how much he loves the sport, his admiration of the culture, and how much he respects it.
Kyrie's skateboarding videos are available on YouTube.
10. David Lee Roth
Retired rock musician and singer-songwriter, David Lee Roth is perhaps easily the most renowned person on this list. He is even the subject of one of the wildest skateboarding pictures in history, in which he jumped over a tennis net. His skills aren't only in music, but obviously seen in skating too.
11. Jaden Smith
Well, who doesn't know Jaden Smith? The son of the great Will Smith is an actor and a singer, and yes, he is also a skateboarder. Before his rise in showbusiness, he was already an experienced skateboarder.
12. Tom Davies
Everton's Tom Davies is an athlete who takes fun and leisure in skateboarding. The English professional is one of the footballers who skateboard, and was sighted casually skating through the streets of Liverpool, doing a few tricks along the way.
13. Miley Cyrus
Miley is among female celebrities who skateboard, as evident in photos of her from 2012. She also dropped a skateboard on her website in 2017, retailing for $100.