Imagine Dragons Turns Concert Into Sing-A-Long After Dan Loses His Voice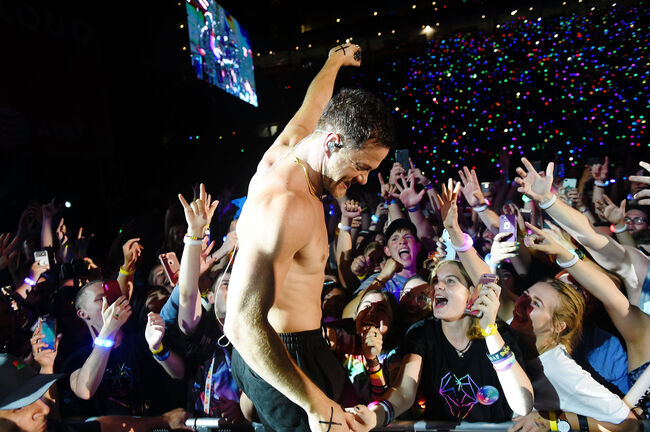 Imagine Dragons are one of the concerts I've NEVER seen. They happened to be playing in Houston while I was on vacation this weekend so we got tickets to check them out at the Woodlands Pavilion. They were scheduled to go on at 8:15pm but went on about 10 minutes later. Nothing seemed out of the normal at this point though because shows often start late.
The show started and the 15,000 fans in attendence (sold-out crowd) were loud and singing every word to their first song 'Radioactive'. That said, something seemed off during the first song. I was in the pit not far from Dan and he looked like he was in serious pain and frustrated during the entire song. It wasn't long after that we all found out why. He lost his voice earlier today.
After a long pause it looked like he was going to cancel the show explaining they've only cancelled one show in the past 10 years but he muscled on. He would do his best and then rely on the crowd and his band to fill in the missing vocals he wasn't able to do due to his voice. It was basically one big sing-a-long with 15,000 handling the vocals for him. This continued through hits like "Thunder", "Demons", and more until he finally gave in and cut the concert short.
At one point he broke down while addressing the crowd and you can watch that video below:

JJ Ryan
Want to know more about JJ Ryan? Get their official bio, social pages & articles!
Read more